The new Roseville Heritage Trail Booklet & Map are now available. You can pick up a copy at any of the following locations: Roseville City Hall, Roseville Park & Rec department at the Fairview Community Center located at 1910 County Road B, West, Roseville MN or the Roseville Visitors Association at Har Mar Mall. Cost is $2.00. You may also order one by mail, send $3.50 (includes cost of mailing) and a note requesting the Heritage Trail Booklet, to the Roseville Historical Society at 1910 County Road B, West, Roseville MN 55113, be sure to include your name and address.
Roseville Heritage Trail Map
Summarized version (two page PDF document - map with guide on reverse) of the Heritage Trail Map & Descriptions Brochure.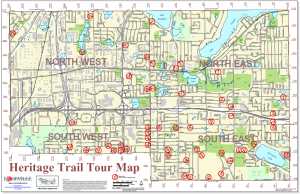 Click on image above for full size image & descriptions.
Maps are available as PDF documents. You will need the Adobe Acrobat Reader© to view and print PDF documents. You can download the free Acrobat Reader from Adobe's web site at http://www.adobe.com/prodindex/acrobat/readstep.html. PDF documents allows you to pan and zoom on maps for more detail.