The Roseville Historical Society has a new location complete with a Display room that is open to the public. Our new hours are Mondays 9 a.m. to 12:30 p.m., Wednesday by appointment, and Thursdays 1:00 p.m. to 3:00 p.m. Stop in for a visit, we would love to see you.
The best time to visit us for research would be on Mondays & Thursdays. If you are bringing a class or group please schedule with us in advance. Our phone number is 651-792-7440.
We are now in The Roseville fire station #1 located at 2701 Lexington Avenue just north of County Rd C in Roseville. Parking closest to the main entrance is reserved for fire personnel and handicap and is marked accordingly.

Roseville Historical Society PRESENTS
Upcoming membership meeting
Monday, Sept 19, 2011 - 7:00 p.m.
Roseville Historical Society Celebrates 34 years!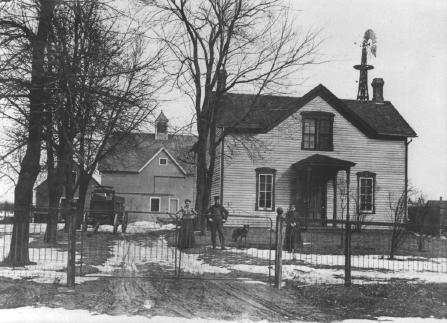 Early Rosetown farm located on Larpenteur Ave. W. Circa 1900
Click on image above for some early history on that property.
Please send us some feedback.